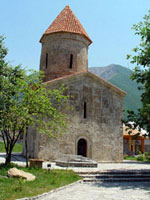 Kish, one of the oldest villages in the territory of the present Azerbaijan is well-known with its unique architectural monument, a temple from the period of the Caucasian Albania. The current building of the temple of Saint Elisei was erected in the 10-12 centuries. At that time, according to what some scholars' opinions, the temple in Kish is standing on the same place where the Apostle Elisei had founded his church. That is the reason why the temple in Kish is often called the Mother of temples in Caucasus. To support this version, there are several results of the radio-carbonic analysis of the artifacts found in the place of the ancient worship under the altar of the church. It is interesting that one of the initiators of archeological excavations was the famous Norwegian traveller and ethnographer Thor Heyerdahl.
The ancient temple in the village of Kish is beautiful with its strict Spartan style. The masonry building is finely tiled. It has exquisite marquee dome and narrow windows. The inner architecture of rather a small temple and its inner yard where there is an ancient burial place (not more than 50 people) impress inquisitive minds. Above the burial, the restorers placed a transparent plastic dome, that allows to see the skeleton of an unusual tall man (about 2 meters).
The temple of St. Elisei in the village of Kish is one of the most frequently visited monuments of the Christian culture of the Caucasian region.
Another Christian temple of the Albanian period dating back to the 6-7 A.D. is in the village of Orta-Zeyzit in the surroundings of Sheki.